Blavatnik National Awards for Young Scientists Announce 2015 Finalists
32 National Finalists will be competing for three spots as the 2015 Blavatnik National Laureates.
Published May 20, 2015
NEW YORK - May 20, 2015 - The Blavatnik National Awards for Young Scientists announced today the 32 National Finalists who will be competing for three spots as the 2015 Blavatnik National Laureates. The Finalists were selected from 300 nominations of highly qualified faculty-rank researchers from 147 of the nation's leading academic and research institutions.
The annual Awards, established by the Blavatnik Family Foundation and administered by the New York Academy of Sciences, recognize and support America's top young scientific innovators in Life Sciences, Physical Sciences & Engineering, and Chemistry. The three National Laureates will be announced in June 2015 and will each receive an unrestricted cash prize of $250,000, the largest prize of its kind for early-career scientists.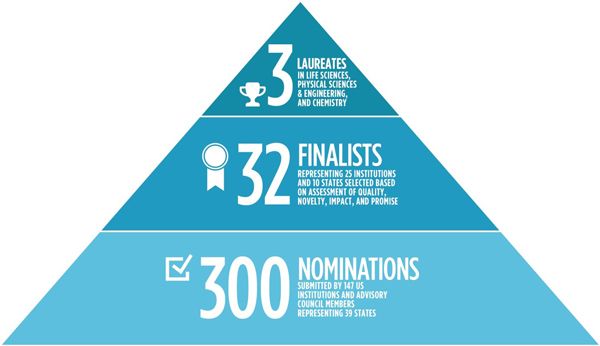 2015 Disciplinary Trends
This year's National Finalists in Life Sciences represent an outstanding cohort that embodies the idealism and excitement of life sciences in the United States today. Their work includes developing disruptive technologies, including optogenetics and CRISPR; revolutionizing the study of the human microbiome and immunity; advancing state-of-the-art methods to explore systems neuroscience and learning in the brain; and understanding basic molecular mechanisms to identify critical clues to cancer and human disease.
The 2015 Physical Sciences & Engineering group is composed of talented young innovators who develop new electronic devices by manipulating the underlying materials chemistry and synthesis; create novel biomaterials and engineer portable diagnostic and imaging devices; probe the capacity of wireless networks, and use computational and statistical methods to analyze space telescope data to characterize planets beyond the Solar System.
The National Finalists in the Chemistry category are extraordinarily talented scientists working at the frontiers of chemical research. Their research ranges from traditional areas such as natural product synthesis, C-H activation methodology, enzymology and drug discovery, to less traditional fields, such as metallo-neurochemistry, DNA nanotechnology, and chemical engineering of low dimensional materials.

To see the full list of National Finalists along with photos and links to their research web pages, visit the Awards website.
The National Laureates and Finalists will be honored at an annual awards ceremony on Monday, September 28th, 2015 at the American Museum of Natural History in New York.
In addition, on August 5-6, 2015, the Academy and the Blavatnik Family Foundation will host its second annual Blavatnik Science Symposium featuring research of the 2015 National Finalists and Blavatnik Awards honorees from previous years. The event will also include members of the Blavatnik Awards National Jury and Scientific Advisory Council, as well as other scientific luminaries.
To follow the progress of the Blavatnik Awards please visit the Awards website (http://blavatnikawards.org), or follow us on Facebook and Twitter (@BlavatnikAwards).
For interview requests, please contact Marina Blinova (mblinova@nyas.org; 212-298-8626). For additional programmatic information, please contact the Blavatnik Awards Administrator (blavatnikawards@nyas.org; 212-298-8624).
2015 Blavatnik National Awards Finalists
Life Sciences
Edward Chang, Neuroscience, University of California, San Francisco
Jonathan Kagan, Immunology & Microbiology, Boston Children's Hospital
Rob Knight, Immunology & Microbiology, University of Colorado Boulder
Harmit Malik, Evolutionary Biology, Fred Hutchinson Cancer Research Center
Luciano Marraffini, Immunology & Microbiology, The Rockefeller University
Michael Rape, Molecular & Cellular Biology, University of California, Berkeley
Jared Rutter, Molecular & Cellular Biology, University of Utah
Alice Ting, Molecular & Cellular Biology, Massachusetts Institute of Technology
Feng Zhang, Bioengineering, Massachusetts Institute of Technology
Yi Zuo, Molecular & Cellular Biology, University of California, Santa Cruz
Physical Sciences & Engineering
Yi Cui, Materials Science & Nanotechnology, Stanford University & SLAC
Xiangfeng Duan, Materials Science & Nanotechnology, University of California, Los Angeles
Eric Ford, Astrophysics, Pennsylvania State University
Markus Greiner, Optical Physics, Harvard University
Syed Jafar, Electrical Engineering, University of California, Irvine
Ali Khademhosseini, Materials Science & Nanotechnology, Brigham & Women's Hospital
Hakho Lee, Materials Science & Nanotechnology, Massachusetts General Hospital
Yueh-Lin Loo, Materials Science & Nanotechnology, Princeton University
Aydogan Ozcan, Electrical Engineering, University of California, Los Angeles
Abhay Pasupathy, Condensed Matter Physics, Columbia University
Ashvin Vishwanath, Theoretical Physics, University of California, Berkeley
Chemistry
Phil Baran, Organic Chemistry, Scripps Research Institute
Christopher Chang, Inorganic Chemistry, University of California, Berkeley
Bianxiao Cui, Physical Chemistry, Stanford University
Matthew Disney, Chemical Biology, Scripps Florida
Michael Fischbach, Chemical Biology, University of California, San Francisco
Rustem Ismagilov, Chemical Engineering, California Institute of Technology
Nevan Krogan, Biochemistry, Gladstone Institutes
Hening Lin, Chemical Biology, Cornell University
Melanie Sanford, Synthetic Chemistry, University of Michigan
Michael Strano, Chemical Engineering, Massachusetts Institute of Technology
Peng Yin, Chemical Biology, Harvard University
# # #
About the Blavatnik Family Foundation
The Blavatnik Family Foundation is an active supporter of leading educational, scientific, cultural, and charitable institutions in the United States, Europe, and throughout the world. The Foundation is headed by Len Blavatnik, an American industrialist and philanthropist. Mr. Blavatnik is the founder and Chairman of Access Industries, a privately-held U.S. industrial group with global interests in natural resources and chemicals, media and telecommunications, emerging technologies, life sciences and real estate. For more detailed information, please visit: www.accessindustries.com
About the New York Academy of Sciences
The New York Academy of Sciences is an independent, not-for-profit organization that since 1817 has been committed to advancing science, technology, and society worldwide. With 20,000 members in 100 countries, the Academy is creating a global community of science for the benefit of humanity. The Academy's core mission is to advance scientific knowledge, positively impact the major global challenges of society with science-based solutions, and increase the number of scientifically informed individuals in society at large. Please visit us online at www.nyas.org